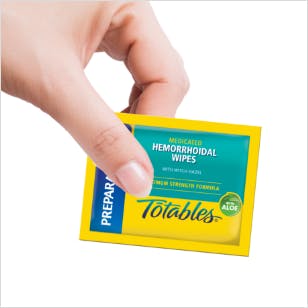 Get relief-to-go with Preparation H Totables. They come in a discreet, convenient travel size—so you can easily treat and relieve your hemorrhoid symptoms away from home.
RELIEVES: Painful Burning, Itching, Swelling
USES: External
*HSA/FSA Plan details may vary. Save your receipts and check with your benefits or health provider for eligibility.
Gentle, everyday cleansing to reduce hemorrhoidal irritation
Flushable, biodegradable, & septic safe
Cools, soothes and comforts
Convenient, individually wrapped
Before Preparation H Ointment, Multi-Symptom Cream, Cooling Gel, or Suppositories, Preparation H Totables Wipes can be used.
Apply to affected area not more than 3 to 4 times daily.
For children under 12 years of age, consult a doctor. Please read the package for product warnings and complete labeling information.