Rapid Relief Totables Wipes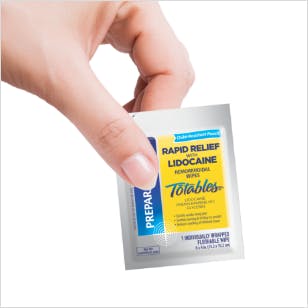 The rapid relief you trust from Preparation H with Lidocaine in an easy to use, convenient wipe. Preparation H Rapid Relief Totables Wipes with Lidocaine have a powerful combination of maximum-strength Lidocaine to numb painful burning and itching, phenylephrine to reduce swelling, plus skin protectants that provide a soothing protective layer back there. Rapid Relief Totables has the highest strength lidocaine available for fast relief of hemorrhoid pain.
RELIEVES: Burning, Itching, Irritation
USES: External
*HSA/FSA Plan details may vary. Save your receipts and check with your benefits or health provider for eligibility.
Convenient, individually wrapped wipes for on-the-go use
Flushable, biodegradable, & septic safe
Rapidly numbs pain, itching and burning
Reduces swelling
Highest strength Lidocaine available
Protects sensitive skin to prevent further irritation and to promote skin healing
For the temporary relief of external discomfort
Adults: when practical, cleanse the affected area with mild soap and warm water and rinse thoroughly. Gently dry by patting or blotting with a tissue or a soft cloth before applying wipe. Apply externally to the affected area up to 4 times daily. Unfold wipe and gently apply to the affected area by patting and then discard.
For children under 12 years of age, consult a doctor. Please read the package for product warnings and complete labeling information.