Medicated Wipes for Women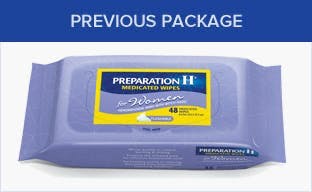 Whether you're experiencing hemorrhoids for the first time or you're a long-time sufferer, Preparation H Medicated Wipes for Women are a must-have for cooling, soothing relief.
They're the first and only women's hemorrhoid wipes infused with chamomile, aloe and refreshing cucumber, plus a soothing medication that cools on contact.
Pregnancy can cause hemorrhoids in 1 out of 3 women, so be ready for the unexpected and put Preparation H Medicated Wipes for Women in your hospital "go" bag to relieve hemorrhoid symptoms following childbirth.
If you are pregnant, consult with a medical professional before using any Over the Counter product.
RELIEVES: Burning, Itching
USES: External
*HSA/FSA Plan details may vary. Save your receipts and check with your benefits or health provider for eligibility.
Gentle, everyday cleansing to cool and soothe
Flushable, biodegradable, & septic safe
Designed just for women
Infused with refreshing cucumber, soothing aloe, vitamin E, shea butter and Chamomile
Protects the irritated area for effective hemorrhoid relief
Use PREPARATION H Medicated Wipes for Women to cleanse the affected area by wiping, patting or blotting up to 6 times a day or after each bowel movement. PREPARATION H Medicated Wipes for Women can be used before applying topical hemorrhoidal treatments such as PREPARATION H Multi-Symptom Pain Relief Cream.
Other Uses
PREPARATION H Medicated Wipes can also be used for external vaginal care and as a moist compress:
For external vaginal care — cleanse the area by gently wiping, patting or blotting. Repeat as needed.
For use as a moist compress — if necessary, first cleanse the area. Fold new wipe to desired size and place in contact with irritated area for a soothing and cooling effect. Leave in place for up to 15 minutes and repeat as needed.
For children under 12 years of age, consult a doctor. Please read the package for product warnings and complete labeling information.