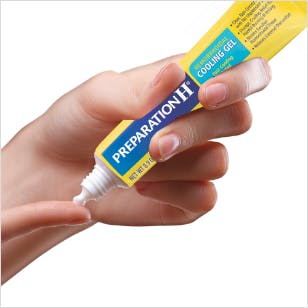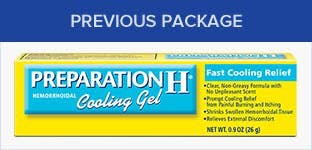 For rapid cooling relief, choose Preparation H Cooling Gel with vitamin E and aloe. It provides prompt, temporary relief from painful burning, itching and discomfort of hemorrhoids. Preparation H Cooling Gel is non-greasy, non-staining and has no unpleasant scent.
RELIEVES: Burning, Itching, Swelling, Discomfort
USES: External
*HSA/FSA Plan details may vary. Save your receipts and check with your benefits or health provider for eligibility.
Fast, cooling relief from painful burning and itching
Shrinks swollen hemorrhoidal tissue
Relieves external discomfort
Clear, non-greasy formula with no unpleasant scent
Adults: when practical, cleanse the affected area by patting or blotting with an appropriate cleansing wipe. Gently dry by patting or blotting with a tissue or a soft cloth before applying this gel. Apply externally to the affected area up to 4 times daily, especially at night, in the morning and after each bowel movement.
For children under 12 years of age, consult a doctor. Please read the package for product warnings and complete labeling information.