6 Unexpected Things to Pack on Your Next Trip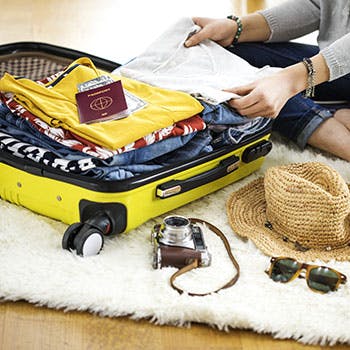 These smart additions merit a spot in your bag.
Packing is an art. But even if you can take your suitcase from empty to full in five minutes flat, you might still be missing certain things that can enhance or improve your travel experience. Whether you want to interact with your cat or need to spice up your plane water, these travel pros have ideas on what's worth adding to your bag.
WHAT YOU CAN DO
Packing Cubes
At first glance, packing cubes can seem like more work than they're worth. But they can be useful, even if you already consider yourself pretty organized. For Jayne, a honeymoon planner, her husband was also skeptical and, yes, eventually came around. "Years ago, another travel agent was so excited about them that she opened her luggage on a street in New Zealand to show them to me," she recalls. Plus, they keep everything organized throughout your trip. "[I have] all my shirts in one pouch, pants in another, dresses in another, underwear in another," Jayne says. "We even have one odd one we use for all our chargers and cords."
Lemon Oil
A freshly-squeezed lemon in your water sounds so refreshing—and, also, hard to pack without creating mess in your carry-on. Devin, cookbook author and founder of lifestyle website Crumb, gets around it by packing food-safe lemon essential oil. "I put one drop into my morning glass of water or my water bottle in the plane and it has the same alkalizing effects as drinking lemon water," she explains. "Perfect for when you don't have access to fresh lemon." Plus, the flavor may make you more likely to choose water over soft drinks, keeping you hydrated in the long run.
A Pet Camera
Technically, you don't pack this so much as download it on your phone—but MyKayla, a flight attendant who blogs at Wanderlust + Pickup Trucks, recommends a pet camera all the time to fellow flight attendants and frequent fliers alike. "A pet camera has two-way audio and connects to an app to spy on your fur baby," she explains. Not only does it give her peace of mind, but you're able to interact with your pet. "[My cat] knows the sound it makes when it powers on and runs to come stick her nose in the camera to say hi," she says. "This little gadget goes a long way to give you that little slice of home you might be missing on your trip."
Preparation-H Wipes
You never know what ailments might pop up while you're traveling, but those first aid kits at the drugstore aren't really one-size-fits-all. Use a zip-top bag to put together a kit with the health and wellness items that make the most sense for you. "You're always better safe than sorry," says Diego Leon, the fashion and lifestyle influencer behind Dandy in the Bronx, who counts Rapid Relief Totables Wipes as one of his go-to travel items. "They cool, soothe, and comfort, no matter where in the world you are. You want to be ready if bum irritations occur."
Noise-Canceling Headphones
You could listen to the crying toddler eight rows up for your whole flight, or you can put on your noise-cancelling headphones and enjoy the sweet sounds of your go-to playlist. "For all trips, I never leave the house without my noise-canceling headphones," says Meghan, a travel and lifestyle blogger at Wit & Whimsy. "They help relax me on flights and ensure some shut-eye on red eyes." Once, someone stole her pair—and she bought a new pair at the airport because she couldn't bear the thought of a seven hour-long flight without them.
Filtered Water Bottle
If you love to go off the beaten path, you can't go wrong with a reusable water bottle with a filter built into it. "I've been very lucky to have gotten to travel to a lot of different places over the last few years across developing and developed countries, and this water bottle has saved me so many times," says Amit, a former consultant who traveled extensively as part of his MBA studies. "Whether on a hike in Oregon, a boat in Colombia, or safari in South Africa, it has always provided a reliable and safe water source," he explains. "I always throw this in my bag for any trip I know I'll be away from the hotel for a substantial period of time."
© Meredith Corporation. All rights reserved.