5 Gifts to Give Someone Who Is Expecting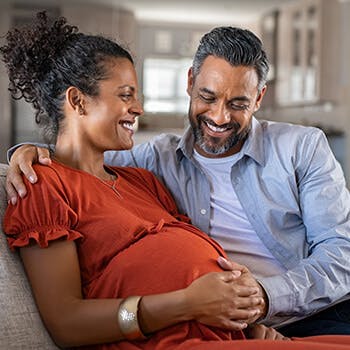 If your friend or relative will be giving birth soon, your first thought might be to get the baby-to-be a present. And that's a sweet idea, but what if you got them a present, too—one that they can use when they come home from the hospital?
After all, those first few days and weeks after childbirth are exhausting and chaotic. It can be overwhelming, because you just brought a baby into this world and the emotions are kind of all over the place," says Julie Deru, a mother of four who runs the Deru Crew Vlogs with her husband Landon. Below, Julie and Landon share some of the best ways to spoil those parents.
WHAT YOU CAN DO
Nutritious nibbles.

The beef stroganoff from a hospital cafeteria may leave something to be desired, so if you're visiting the new parents there, Landon's top tip is to bring food or drinks from the outside world. Once the baby heads home, organize a meal train so you and others can take turns cooking meals, or drop off a baked pasta or casserole that can be easily frozen or reheated. If you don't have time for that, send them a gift card for some popular food delivery services in the area. Other ideas: "It would have been nice to have pre-chopped fruits and vegetables, lactation cookies, frozen smoothie packets, or frozen meals that were easy to pull out," Julie says. "Or a cute water bottle or tumbler with a metal straw and some flavor packets—something to replace those ugly, plastic water bottles from the hospital."

The gift of time.

Offer to run an errand for them or, if the new mom is comfortable with it, hold the baby for an hour or two so they can do something that they need to do (such as take a much-needed shower) or just to take some me-time (like heading out solo for a manicure). If the baby has older siblings who are rambunctious, offer to take them to a park to give them some peace and quiet with the newborn. You can also offer to hire professional cleaners to make the house shine, or even just take a few minutes to do any dishes in their sink and wipe down counters yourself.

A self-care basket.

It's tough for postpartum women to take proper care of themselves when they have to focus so much of their attention on the new baby. Help a mama out by providing her with a fun basket of goodies that could include: scented hand lotion, dry shampoo ("because you might not feel like jumping in the shower," Julie says), a hair accessory, lip balm, Ointment (because hello, hemorrhoids), a gift card to a streaming service, nipple cream (if she's nursing), comfy high-rise underwear (that won't irritate her scar if she's had a c-section), and her favorite coffee grounds or tea bags.

A photo session.

Most parents will quickly fill their camera roll with about a thousand photos of their newborn sleeping, but why not hire a pro to capture precious moments of the whole family together? First ask the parents if this is something they might want immediately (some parents, for instance, stage photo shoots in the hospital a day or two after the birth) or if it's something they might enjoy weeks or months later, like when they're preparing a birth announcement or holiday card. You can always pay ahead of time and let the photographer schedule the session directly with the parents.

A bedtime bundle.

Nothing says cozy and comfortable quite like loose, fuzzy, button-down pajamas (which makes nursing in the middle of the night easier), a new novel or audiobook, a sleep mask, liquid soap for a bubble bath, and soft house slippers.
A Few Notes on Etiquette
Avoid empty promises.

Keep in mind that, despite good intentions, some of the least helpful things you can say to a new parent are: "What do you need?" or "Please let me know if there's anything I can do for you." New moms and dads are likely getting deluged with calls, texts, and video chats and don't have the time or energy to think of ideas. Plus, they may feel awkward asking you for something. Instead, bring them one of these specific gifts above—and don't expect a formal thank-you note.

Don't stay all day.

Unless you're part of the immediate family, a best friend, or you've been explicitly asked to stay for a while, keep your visit brief. Julie says: "When I have babies, I'm just tired. The last thing I want to do is carry on a long conversation with anyone. So I like it when people drop something by my door and leave a note or say hi at the door and then leave." Other reasons: Some parents may not want to greet you without showering or let you see their messy house, some (especially those who had surgery or complications) could be physically unable to get the door, and some may not want you to ring the doorbell because it might wake the sleeping baby.

Think about germs.

If a newborn gets a fever in the first two months, most parents are advised to take that baby straight to the emergency room because certain diseases can be life-threatening. So if you're even mildly sick, don't bring your coughs and sneezes around a little one with an immune system that's not fully developed. If you're healthy and you do visit the newborn, don't touch that baby without first washing your hands.
© Meredith Corporation. All rights reserved.